UPDATED 06/06/04:



I HAVE 2 SCOTT UNITRACK FULL SUSPENSION BIKES,BOTH DISPLAYED ON THIS SITE.

SINCE THERE ISN'T ANY REAL INFORMATION ON THE SCOTT BIKES ON THE WEB ESPECIALLY THE TEAM BIKE I HAD TO TAKE A GUESS DURING BOTH BIKES REBUILDS.THOMAS' PHOTO OF THE BIKE GAVE ME AN IDEA ON HOW IT WAS BUILT EVEN THO A LOT OF DETAILS ARE OBSCURED BY THE ANGLE OF THE PHOTO AND THE NUMBER PLATE. THE BIKE APPEARS TO HAVE BOTH GRIPSHIFTER AND TOPMOUNT SHIFTER ON A FLAT XC BAR.

FRAME SR393 WAS FOUND IN A LOCAL FLEA MARKET WITH A VINTAGE XTR FRONT DERAILLUER,A RITCHEY LOGIC 27.0 SEAT POST,RITCHEY COMP FORCE 150mm STEM AND A RITCHEY BB.IT'S PAINTED IN WHITE AND SILVER,NO DECALS EXCEPT FOR THE TUBE DECAL STICKER LOCATED JUST ABOVE THE BB SHELL.THE SCOTT CAME WITH A SCOTT UNISHOCK LF FORK WHICH WAS SUBJECT TO A RECALL A FEW YEARS BACK. I BOUGHT THIS FRAMESET FOR $40. IT WAS IN POOR CONDITION.FRAME SIZE IS 18".



FRAME SR143 WAS FOUND IN EBAY.IT WAS DESCRIBED AS A BIKE THAT WAS RACED IN THE 1993 TOUR DE SUISS WORLD CUP.THOMAS FRISCHKNACHT WAS THE RIDER FOR RITCHEY. IT'S PAINTED IN THE RITCHEY TEAM COLORS IN RED WHITE AND BLUE OVER THE STOCK WHITE & SILVER COLORS AND CLEAR COATED. A PHOTO OF THE BIKE APPEARS IN THOMAS'OFFICIAL WEBSITE GALLERY FOR 1993.IT'S IN THE SCOTT COLORS BEFORE BEING PAINTED IN THE TEAM COLORS. WHEN THE 1994 SEASON ARRIVED,RITCHEY CAME OUT WITH THEIR OWN ST BIKES.THOMAS CURRENTLY RIDES FOR SCOTT.FRAME SIZE IS 17.5".


SCOTT UNITRACK FRAME SPECIFICS:

RITCHEY LOGIC MAIN FRAME WITH A RITCHEY LOGIC SWINGARM + RITCHEY VERTICAL DROPOUTS.THE SWINGARM PIVOTS AROUND THE BB SHELL WHILE THE BRAKESTAYS BOLT TO AN ALUMINUM SHOCK MOUNT.THE SHOCK'S OUTER BODY IS ALUMINUM WITH ELASTOMER CARTRIDGE.THE SHOCK INNER BODY IS STEEL WHICH IS FIXED AND WELDED BEHIND THE SEAT TUBE.
THE MAIN TRAINGLE FRAME IS PAINTED WHITE WHILE THE REAR SWINGARM IS PAINTED SILVER. SCOTT FRAME DECALS ARE IN SILVER. THE RITCHEY TEAM BIKE WAS PAINTED IN THE TEAM COLORS OVER THE ORIGINAL WHITE AND SILVER.
18" SCOTT UNITRAK ST AFTER 1ST RESTORATION.
BIKES OVERALL CONDITION BEFORE RESTORATION;



FRAME SR393 WAS FOUND IN POOR CONDITION BUT IT WAS RESTORABLE. ALL TUBES SHOWED NO DENTS OR CRACKS AT THE WELDS. THE PAINT APPEARS TO HAVE BEEN APPLIED WITHOUT A PRIMER BASE AND THE RESULT WAS THE PAINT FLAKING OFF AT THE CHAINSTAY AND RUST SEEPING INTO THE MAIN FRAME.THIS RESULTED IN RUST.RUST WAS SEVERE ON THE REAR BRAKE LOOP.

OXIDATION COVERED BOTH THE SCHOCK PIVOT BODY AND OUTER SHELL. THE BUMPER HAS DETERIORATED AND BEEN REPLACED. ALL PIVOT BOLTS WERE CORRODED.

FRAME SR143 WAS FOUND TO BE IN BETTER CONDITION.NO RUST OR DENTS WAS FOUND.THE SHOCK ASSEMBLY AND PIVOTS MOVED FREELY.THIS FRAME CAME WITH AN UNUSUAL CONE SHAPED RITCHEY LOGIC BB. THE FRAME WAS PAINTED IN RED,WHITE AND BLUE.THE PAINT FLAKING WAS CONFINED TO THE RIGHT CHAINSTAY.THIS IS BEING CORRECTED.
FRAME # 393 UNDERGOING REPAINTING.
PRIMER WAS MISSING,WHICH MAY'VE CAUSED THE PAINT TO FLAKE OFF. #143 IS IN THE BACKGROUND.
FRAME SR# 142,SWC BIKE FOUND IN EBAY.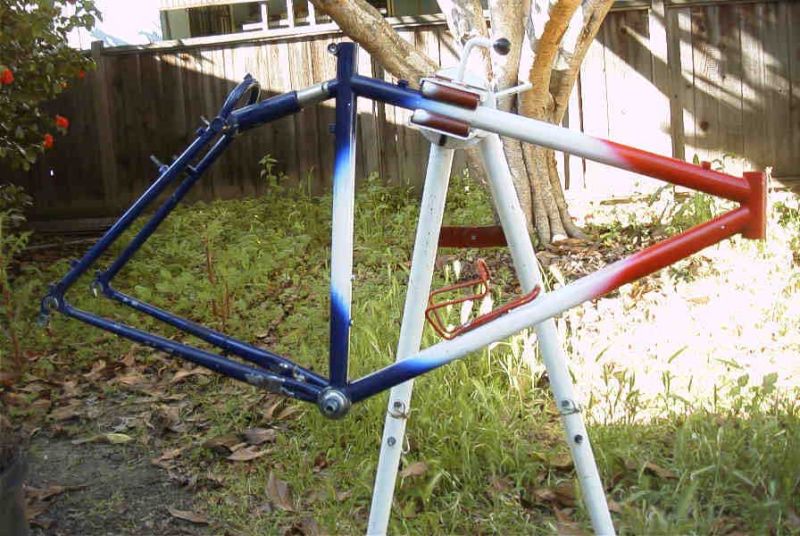 PAINTED IN TEAM RITCHEY COLORS.
RESTORATION AND BUILD UP OF FRAME SR143:

THE FRAME WAS BUILT UP USING THE PARTS AND FORK FROM SR393.
THE XTR FRONT DERAILLEUR AND 7s PRECISION BILLET REAR DERAILLEUR IS HOOKED UP TO SHIMANO SIS TOPMOUNT SHIFTERS.
XT CANTILEVER BRAKES AND CRYSTAL DESIGN BAD FINGER LEVERS WERE ALSO INSTALLED. ALL OTHER PARTS CAN BE SEEN IN THE BIKE SPECS BELOW.
THE SCOTT UNISHOCK LF FORK IS A CHROMED UNICROWN FORK WITH CARBON FIBER SLIDERS BOLTED TO THE UPPER FORK.THIS WAS DISASSEMBLED,INSPECTED FOR CRACKS AND RUST AND CLEANED BEFORE BEING CAREFULLY RE-ASSEMBLED. ALL BOLTS WERE INSPECTED AND REPLACED WHEN NEEDED.
SCOTT SR# 0200, 18" FRAME W/ SCOTT LF FORK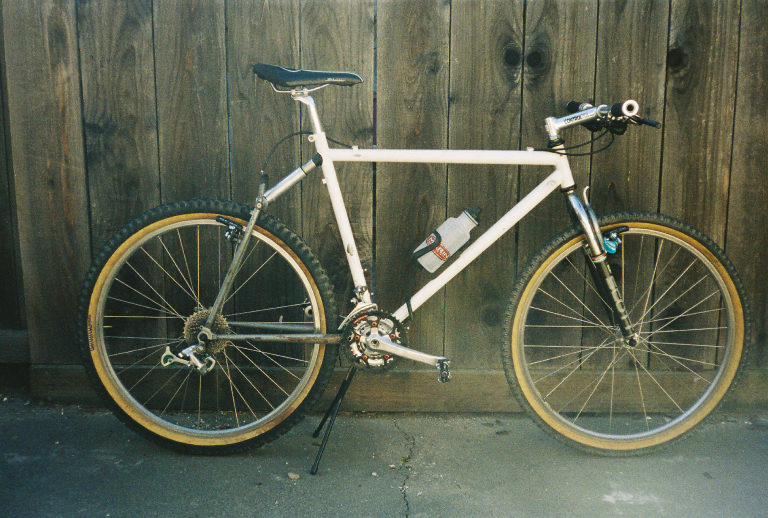 DURING 1ST BUILD-UP WITH RITCHEY AND XT COMPONENTS
SCOTT/TEAM RITCHEY FSR FRAME SR# 0142
THIS IS A 17.5" FRAME
TRAIL TEST:

AFTER BUILDING UP FRAME 393 I COMMUTED TO WORK WHICH WAS A FORTY MILE ROUND TRIP. THE COMMUTE CONSISTS OF BOTH PAVED ROAD AND DIRT TRAILS. FIRST OF ALL,THE LF FORK AND REAR SHOCK HAS LIMITED TRAVEL, 1.5" REAR AND 2.5" FRONT WHEN LOADED. DURING 15 SEC SPRINT INTERVALS,THE BIKE WAS STIFF,NO NOTICIABLE FRAME FLEX AND NO BOBBING. THE LF FORK TENDS TO FLEX WHEN BRAKED HARD BUT IT'S NOT THAT BAD.
ON THE TRAIL,THE BIKE IS STABLE AND ABLE TO SCOOT UPHILL WITHOUT WASTING ENERGY BOTH SEATED AND STANDING ON THE PEDALS. DESPITE LOOKING LIKE A TALL BIKE WITH A LONG WHEELBASE,THE BIKE CAN MANUEVER AROUND TIGHT PLACES.THE SCOTT HAS A TENDACY TO JUMP UP HIGHER THAN A HARDTAIL WHEN LAUNCHING OFF A JUMP.I'VE GOTTEN MAJOR AIR DESPITE WEIGHING IN AT 225lbs AT THE TIME.I WEIGH IN AT 193lbS NOW SO WHO KNOWS.THE BIKE DIDN'T RATTLE WHEN SPEEDING DOWNHILL.
THE BIKE'S RIDING STYLE QUICKLY MADE IT ONE OF MY FAVORITE BIKES IN MY COLLECTION. SAME WITH THE TEAM BIKE.
THE TEAM BIKE RIDES THE SAME BUT DURING IT'S FIRST RIDE ON GRANT RANCH I BLEW OUT THE REAR TIRE DURING A ROCKY DOWNHILL DESCENT.I USED TOO NARROW A TIRE(1.95 MOSQUITOS) AND INSTALLED 2.10 WILDGRIPPERS.THIS IS THE MAX WIDTH I CAN USE DUE TO LIMITED FRAME CLEARANCE.THIS IMPROVED THE RIDE AND THE BIKE JUST BLAZED DOWN QUICKLY KICKING UP LARGE AMOUNTS OF DUST.THE WAS NO CHAINSLAP.THE BIKE IS ALSO A GREAT CLIMBER.I OFTEN FIND MYSELF RIDING A STEEP GRADE ON THE MIDDLE 36t RING.BECAUSE OF THE RED,WHITE AND BLUE SCHEME I GET A LOT OF SALUTES.
THERE ARE NOT MANY OLDER SUSPENSION BIKES OUT THERE THAT CAN DO IT ALL. THE SCOTTS CAN DO IT ALL.