1991 HARO EXTREME, 'ORANGE CRUSH'
MY FAVORITE BIKE. IT'S CURRENTLY UNDERGOING A TOTAL REBUILD.
SINCE 1986 I'VE OWNED MANY BIKES,SOME WHICH I STILL OWN. BIKES WERE SOLD,SOME WERE STOLEN AND ONLY ONE WAS DAMAGED. FOUR WERE RACE BIKES. I HAVE PHOTOGRAPHS OF MOST OF MY BIKES AND I'VE FOUND PHOTOS OF BIKES I USED TO OWN. THESE WILL BE POINTED OUT AS A *

1993 SCOTT UNITRACK CST 'PURPLE HAZE'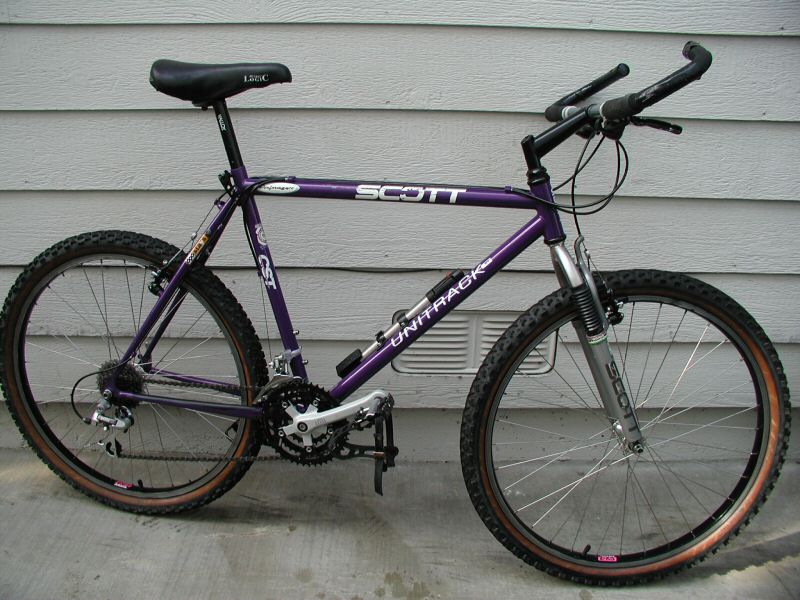 ALL OEM EXCEPT FOR NEW TIRES.
SPECIALIZED GROUND CONTROL A1
MY 1ST ALUMINUM DUELIE,CURRENTLY UNDERGOING RESTORATION.
1993 SCOTT UNITRACK FS SWC #143 'CAPTAIN AMERICA'
FORMER '93 SUISS WORLD CUP RACE BIKE.CURRENTLY UNDERGOING RESTORATION.
1990 SCHWINN KOM 'KING OF THE MOUNTAIN'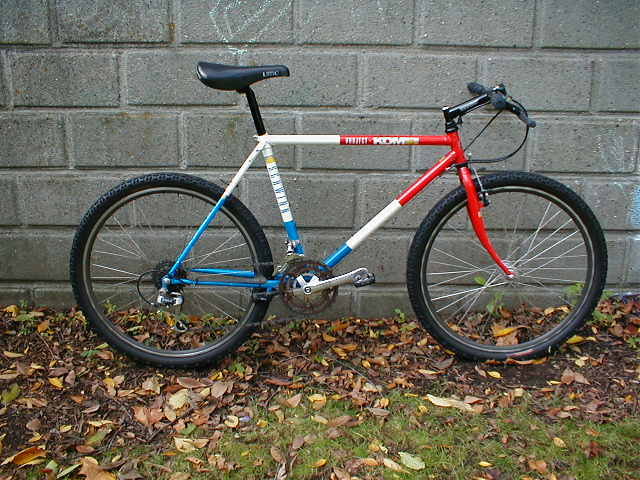 THE COOLEST SCHWINN I'VE OWNED.MY 2ND RACE BIKE.
1989 MONGOOSE I.B.O.C. PRO 'JOHNNY T'
THIS IS THE BIKE I RODE MY 1ST RACE ON.RACE DAY SHIRT IN BACKGROUND.
THE IBOC PRO IS MY RACE FIRST BIKE THAT I USED ON THE 1ST SIZZLER MOUNTAIN BIKE CLASSIS HELD IN GRANT RANCH,SAN JOSE CALIFORNIA, ON AUGUST 1989..I THINK MY RACE NUMBER WAS #172. I RACED THE SPORTSMAN CLASS. IT'S A HEAVY BIKE NOW COMPARED TO THE LATER BIKES I'VE OWNED BUT WHEN I BOUGHT IT,IT FELT LIGHT. I DNF'd THE RACE AFTER THE FIRST 10 MILE LAP. I DIDN'T PREPARE FOR THE RACE PROPERLY. AFTER THE RACE I PRACTICED RIGHT BY RIDING THE RACE COURSE OVER AND OVER AGAIN,CLIMBING THE STEEP HOTEL TRAIL INSTEAD OF PUSHING THE BIKE UP.THE BEST THING ABOUT THE BIKE WAS THE WISHBONE REAR STAYS WHICH STIFFENED UP THE REAR AND THE BIKE TOOK OFF LIKE A ROCKET. THE IBOC WAS ORIGINALLY DEORE EQUIPPED BUT I REPLACED MOST PARTS WITH SHIMANO XT AND SUNTOUR XC PRO. I'M NOT INTO BUYING ANYTHING ENDORSED BY PROFESSIONAL ATHLETES BUT JOHN TOMAC WAS THE MAN BACK IN THE DAYS AND I WANTED TO WIN LIKE HIM. NEVER DID WIN A RACE BUT I ENJOYED BEING AT THE RACES AND HANGING OUT WITH MY FRIENDS. I STILL HAVE THE RACE DAY T-SHIRT,GIVEN OUT TO PEOPLE WHO SIGNED UP TO RACE. THE RACE NUMBER WAS THROWN OUT BY A FAMILY MEMBER MANY YEARS AGO. 'JOHNNY T' IS RETIRED AND HANGING UP ON THE WALL AS A TROPHY BIKE. THESE DAYS I CAN NOW RIDE A TEN MILE LAP AS IF I'M RIDING AROUND THE BLOCK. YOU GET BETTER WHEN YOU GET OLDER.
1991 KAWASAKI KM450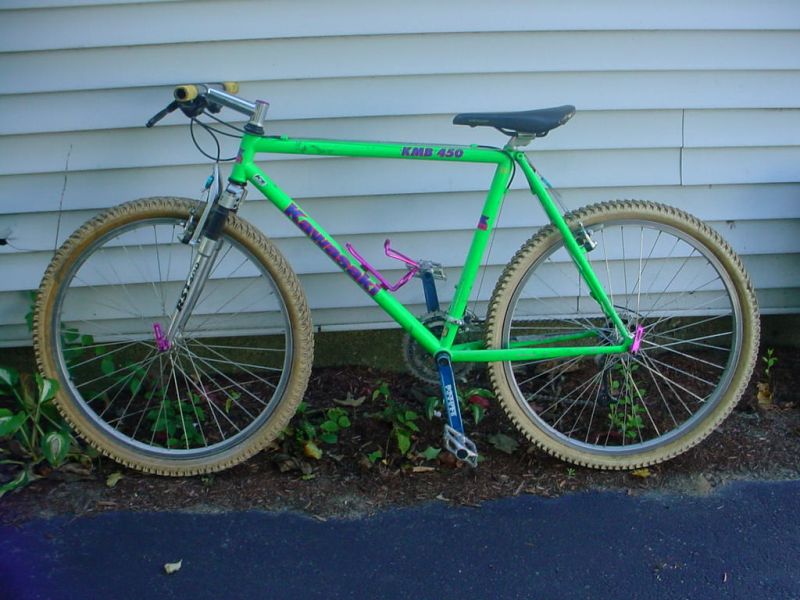 OF COURSE THIS IS THE SLOWEST KAWASAKI EVER. 46.4mph DOWNHILL.
1993 SPECIALIZED ROCKHOPPER, 'SGT ROCK'.
THIS BIKE IS THE BEST BIKE I OWN. FAST,GREAT GEOMETRY & RED.A REAL CLASSIC!
1989 GT AVALANCHE
THROWN OUT BY 1ST OWNER.IT WAS A GARAGE QUEEN LEFT OUT TO BE RECYCLED WITH OTHER TRASH.
1993 SCOTT UNITRACK FSR FRAME # 393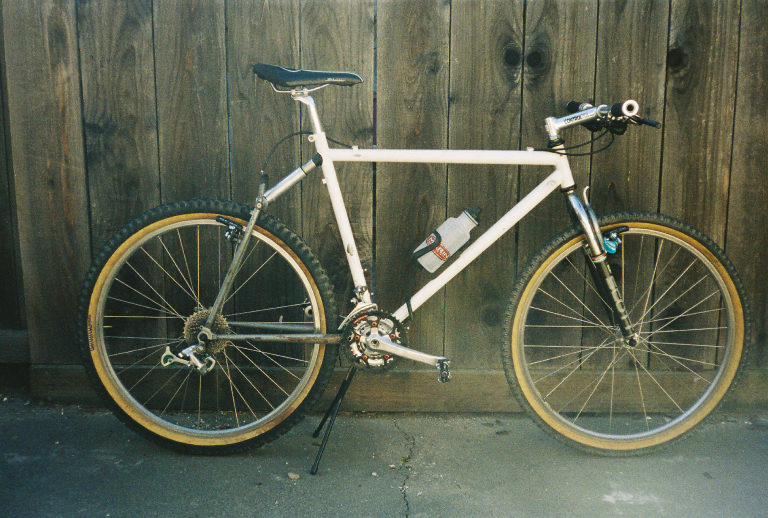 THE FRAMESET WAS BOUGHT FOR $40 AT A SWAP MEET.RITCHEY LOGIC TUBING.
1992 SPECIALIZED STUMPJUMPER ,RACE BIKE # 4
THIS IS THE LAST RACE BIKE I RACED ON. PHOTO TAKEN 1994
Enter content here



Enter supporting content here